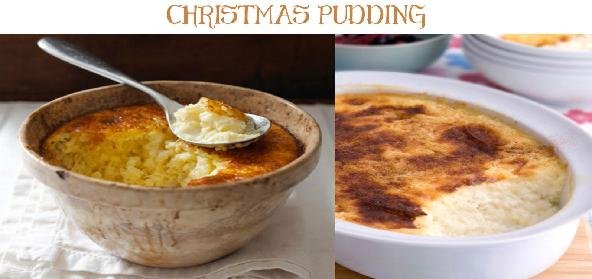 Ingredients:
• 75g pack – semi-dried Cherries
• 2 x 75g packs – dried Cranberries
• 150 g – Raisins
• 150 g – sultanas
• Finely grated zest and juice of 1 Orange
• 1.5 tsp – freshly grated Nutmeg
• 1 tsp – ground Cinnamon
• 1 tsp – mixed spice
• 200 ml – Apple juice
• 2 tbsp – Orange juice
• 1.5 x 250g pack – vegetable suet
• 50g – self-rising flour
• 100 g – fresh breadcrumbs
• 1 medium Granny Smith apple, peeled, cored and grated
• 225g – dark brown soft Sugar
• 2 large eggs, beaten
Method:
Place the fruit, spices and liquids in a large bowl. Mix well, cover with a clean tea towel and leave to stand for at least 6 hours, preferably overnight.
Once the fruit has plumped up, stir in the remaining ingredients and mix thoroughly. Transfer to a lightly greased pudding basin, packing it down to ensure it all fits.
Cut two squares of parchment paper about 20cm wider than the basin radius. Cut a piece of foil about the same size. With the foil at the bottom, fold the three layers in half, then take one side and fold it back about 2 cms from the first fold to make a pleat. This will allow the pudding to expand during cooking. Put the foil and parchment paper on top of the pudding with the foil uppermost.
Take a long length of string, fold it in half and wrap it around the bowl to secure the paper and foil. Thread the ends of string through the loop, tighten and knot to secure. Use the excess string to make a handle across the bowl for lifting. Trim the excess parchment and foil from the pudding top. Place a trivet or heatproof plate in the bottom of a large pan. Add the pudding, then carefully pour boiling water around the edge of the basin until it is about halfway up the side of the basin.
Place on a tight-fitting lid and bring to the boil, reduce the heat immediately and steam the pudding for six hours. Regularly check the water and top up with boiling water if required. After six hours, turn off the heat and leave the pudding to cool. Use the string to lift it from the pan. Wipe the outside of the basin, undo the string and remove the foil and paper.
Replace with new foil, parchment paper and string and store in a cool, dark place until required (for up to 2 months). To reheat, steam for two hours or remove the foil and place in a microwave for about 5 minutes. Serve with double cream.