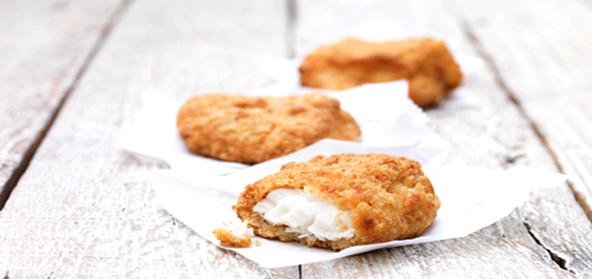 Ingredients:
• 2 large – Pomfrets
• 2-3 – eggs
• Breadcrumbs
• Salt to taste
• Oil for frying
• For the chutney:
• 6 – Green chillies
• 1 large bunch – Coriander
• 1/2 – Coconut
• 1 tsp – Cumin
• 1 tsp – Sugar
• Juice of 1 Lemon
• 1/2 tsp – Salt
• 6 slices – Garlic, if desired
Method:
Grind all the above masala for the chutney, add lemon juice and keep it aside.
Fillet pomfrets, apply 2 tbsp. salt and keep for 1/2 an hour, then wash and cut each fillet into two crosswise; you will get 16 pieces.
Then lay each fillet flat on the board and with a very sharp knife slice into half but do not disjoin it, should be joined at the side.
Lay each piece flat and flatten with a knife, put a little chutney on each and roll up, and put a toothpick in each roll and make all the 16 rolls.
Put it in the refrigerator.
Just before serving, roll them in flour, then in beaten eggs and then in breadcrumbs.
Fry in deep hot oil, until crisp and golden.
Drain on paper before serving.
These rolls can also be dipped in batter and fried, but must be served immediately.