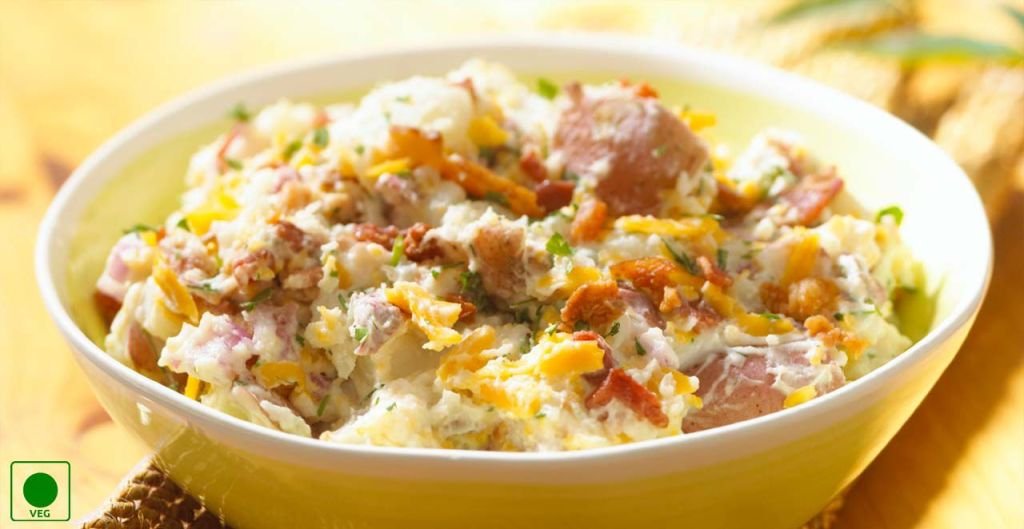 Potatoes are full of fibre and very healthy. Today I am sharing a classic potato salad recipe. To make the salad choose a small potatoes which gives a rich taste after baking. The mixture of vinegar and garlic makes the potato salad more delightful.
Ingredients
– 2 tablespoon white wine vinegar
– 1/2 garlic clove
– 500 gm small skinned potatoes
– 1/4 cup extra virgin olive oil
– 2 sliced spring onions
– 1/2 cup cilantro leaves
– 1/4 cup Sliced Cornichons
How To Cook?
1. In a bowl, mix extra virgin olive oil, white wine vinegar, garlic, pepper and salt. Mix them well and keep aside.
2. Now, Wash and cut the potatoes into thick pieces. Add the slices potatoes into pot, add water to it and place the pot on Flame and let it boil on HIGH flame. Uncover and cook for 10 minutes. Drain them well and put them into bowl and let them cool.
3. Now, mix the garlic mixture and add 2/3 of the mixture over the potatoes and carefully turn to mix so that the potatoes will not breaking up.
4. Now, add potatoes on a serving dish and garnish with spring onions, cilantro and cornichons.
5. Drop remaining garlic mixture over the potatoes and serve.
Preparation Time: 10 Minutes
Cooking Time: 15 Minutes