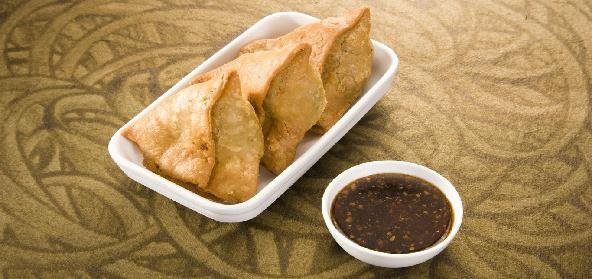 Ingredients:
• For Crust:
• Maida- 1 cup
• Salt to taste
• For filling:
• Boiled Potatoes – 4
• Onion – 1
• Cumin – 1/2 tsp
• Salt to taste
• Turmeric – 1/2 tsp
• Chilli powder – 1/2 tsp
• Coriander leaves – a bunch
• Peas – 1/2 cup
• Chat masala- 1 tsp
• Oil
Method:
Heat oil in a pan, add cumin
Add onion, when it turns translucent, add turmeric, chilli powder, salt and heat for a few more seconds.
Then add the boiled and mashed potatoes
Add peas and chopped coriander leaves
Now, make the dough with flour, salt and a little water. Make small balls out of the dough, roll it and cut into half.
Put the filling onto the centre. Fold as a triangle. Deep Fried, arrange them on a plate, sprinkle some chat masala
Serve.
Recipe courtesy of Madhu