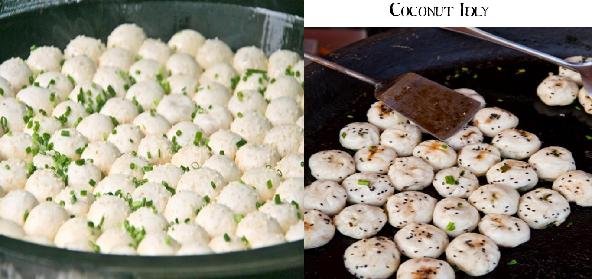 Ingredients:
• 2 cups – parboiled Rice
• 1 cup – ground Coconut
• 1 tsp – Mustard Seeds
• 1 tbsp – each of Channa and Urad Dal
• 2 – Green chillies
• 1 – broken Red Chilli
• a couple of Curry leaves
• 1 – minced Onion
• salt to taste
Method:
Clean and soak the rice for about 6 hours, then grind with coconut to a fine paste.
Heat 1 tbsp. oil and put in the mustard seeds and the dals.
When the dals turn red, add onion and chillies and curry leaves.
When the onion turns soft, remove from fire and mix the mixture into the rice paste.
Add enough hot water to form a thick paste. Steam in an idli vessel and serve hot with chutneys.