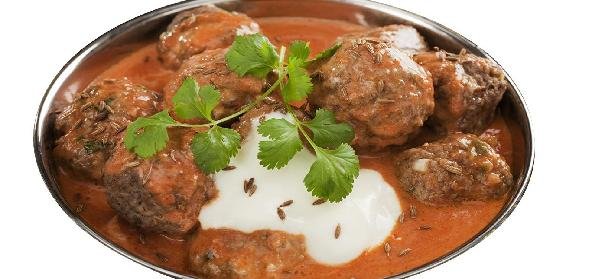 Ingredients:
• 1 cup Corn (boiled and ground)
• 1 Potato (boiled and mashed)
• 3 Green chillies
• 2 tbsp Onion-Tomato Paste
• 1 tbsp Ginger-Garlic Paste
• 2 Tomatoes (pureed)
• 1/2 tsp Jeera
• 1/2 tsp Turmeric powder
• 1 tsp Red Chilli powder
• 1 tsp Coriander Powder
• 1/2 tsp Garam Masala
• 2 Bay Leaves
• 1 Cinnamon stick
• 2 Cloves
• Salt to taste
• 1 tbsp Corn flour
• Coriander leaves for garnishing
Method:
For Kofta:
Mix corn and mashed potatoes with 1/2 tsp red chilli powder, salt, cornflour, and 1 green chilli (chopped).
Make small balls and deep fry in oil. Keep aside.
For Curry:
Heat oil in a pan and add jeera, bay leaves, cinnamon, and cloves, and fry it till light brown.
Then add onion-tomato paste, ginger-garlic paste and saute.
Add a little amount of water and cook this masala properly.
Now add turmeric powder, red chilli powder, salt, coriander powder, garam masala, tomato puree and 1 glass of water and let it boil for 10 or 15 minutes.
Finally add the fried koftas and cook it for 5 mins.
Garnish with coriander leaves and serve hot.
Recipe courtesy of Sify Bawarchi