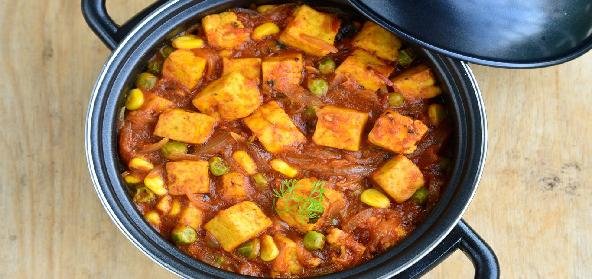 Ingredients:
• 100g Paneer (cut into small cubes)
• 100g sweet Corn (if the Corn is raw, pressure cook up to 3 whistles)
• 1/2 tbsp panchphoran (cumin seeds, mustard seeds, aniseeds, black cumin seeds, Fenugreek seeds)
• 100g Capsicum (cut into medium-size pieces)
• 1 onion, chopped fine
• 1 big tomato, chopped fine
• 1/2 tsp Turmeric powder
• Salt
• 1/2 tsp chilli powder
• 1/2 tsp Tomato sauce
• 2 tbsp oil
• 1/2 tsp coriander powder
• 1/2 tsp cumin powder
• 1/2 tsp Garam Masala
Method:
Heat oil, add panchphoran and allow it to splutter.
Add chopped onion and fry till it turns golden brown.
Now, add capsicum and tomato fry it well for 5 minutes.
Add the paneer and corn and mix it well.
Add salt, turmeric powder, chilli powder, coriander powder, cumin powder, garam masala and mix it well.
Now add tomato sauce and stir well and cook covered for 5 minutes.
Serve hot with paratha.
Recipe courtesy of Ramya Ganesh