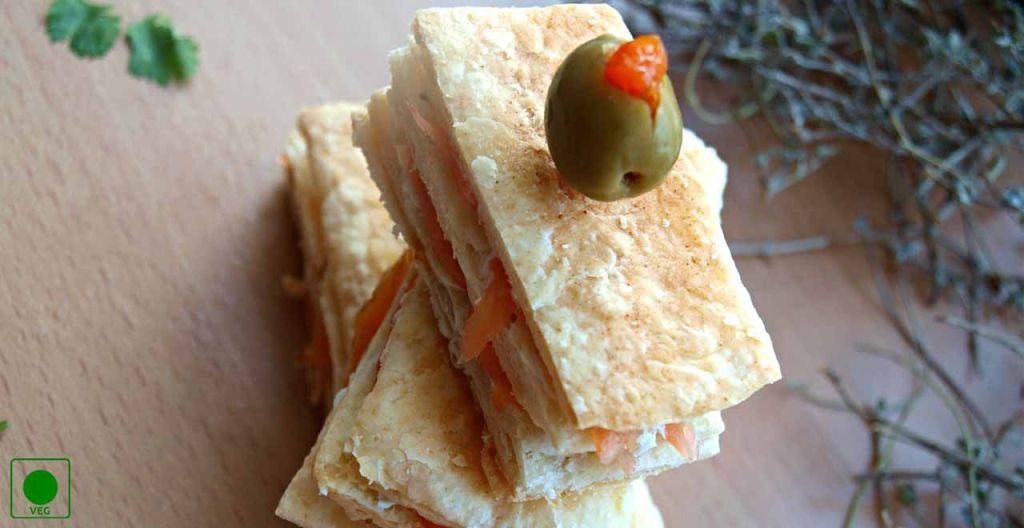 Cottage cheese mille feuille is an Indo-Italian cuisine. It is very healthy dish and contains a lot nutrition. The flavor of this dish is wonderful, it is little bit time-consuming but at the end it comes very delicious and yummy. The Ingredients needed to prepare this dish are cottage cheese, spinach, shiitake mushroom, parsley and many other Ingredients. The aroma that comes from the dish will perfume your dinner table. Let's see the recipe.
Ingredients
– 200 gm cottage cheese( Paneer )
– 1 cup chopped spinach
– 1 cup shiitake mushroom
– 1 teaspoon chopped leeks
– 1 teaspoon chopped parsley
– 1 tablespoon chopped garlic
– 1 tablespoon chopped onion
– 1 teaspoon chopped ginger
– 250 gm tomato
– A pinch cumin seeds
– 1/2 teaspoon curry powder
– Salt to taste
– A pinch pepper powder
– 4 spring basil
– 1 tablespoon balsamic vinegar
– 1 tablespoon olive oil
– 1 tablespoon butter
How To Cook?
1. In a deep pan, place tomatoes and cover it with water and blanch the tomatoes.
2. When the tomatoes are blanched switch of the flame and drain the access water and let the tomatoes cool for about five minutes.
3. After 5 minutes remove tomatoes skin and roughly chop it.
4. In a mixture jar, put chopped tomatoes, 1/2 teaspoon of leeks, cumin seeds, 1/2 teaspoon of chopped ginger, basil leaves and salt. Blend it till smooth to make tomato sauce.
5. Slice the cottage cheese.
6. In a medium bowl, place 1 teaspoon of olive oil and add curry powder, 1 teaspoon chopped garlic and salt to it. Mix it well.
7. Marinate cottage cheese slice with this mixture. Keep aside.
8. Meanwhile, in the same deep pan blanch the spinach and shiitake mushrooms till tender.
9. Drain access water from it and let it cool for a while.
10. Heat remaining olive oil in a pan and add remaining chopped garlic, leeks, ginger and saut? it for few seconds then add chopped onion to it and saut? it for another few seconds then season it with pepper powder and salt and mix it well.
11. Now, grill the marinated cottage cheese on griller by applying butter to it till golden brown.
12. On serving dish first assemble tomato sauce with the layer of grilled cottage cheese and saut?ed spinach and shiitake mushroom.
13. Drizzle balsamic vinegar on it and serve this hot.
Preparation Time: 20 Minutes
Cooking Time: 40 Minutes