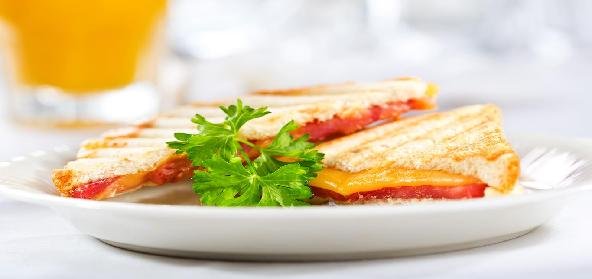 Ingredients:
• 8 slices – large sandwich bread
• 1 cup – Cream cheese
• 2 tsp – butter, softened
• 2 – carrots, coarsely grated
• 15-20 – French beans, steamed, cooled
• 1 cup – cabbage, shredded finely
• 1 – large potato, boiled and refrigerated the previous day
• 1 sprig – Spring onion greens, finely chopped
• 1/2 tsp – mustard paste
• salt to taste
• pepper to taste
Method:
Grate the potato coarsely into a large mixing bowl. Add the carrots, beans, cabbage and spring onion greens and keep aside.
Beat the cream cheese with mustard, salt and pepper.
Add to vegetables, mix well and refrigerate until required.
Place a slice of bread on the work surface.
Evenly spread a quarter of the mixture on the slice.
Place another slice over the mixture.
Press the sandwich gently, butter lightly on the outer sides of the slices.
Place in a hot griller toaster and grill until crisp and golden.
Cut into smaller triangles or as desired.
Serve hot and crisp with potato wafers, ketchup and salad.
Recipe courtesy of Saroj Kering