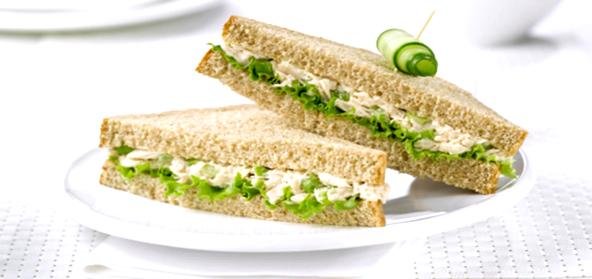 Ingredients:
• 4 slices – Bread
• 1/3 cup – Cream cheese
• 1 – Cucumber
• 1/4 – Bell pepper, finely chopped
• 2 tbsps – Finely chopped Coriander leaves
• 1/2 tsp – Salt
• 1/2 tsp – Black pepper
• 1 tsp – Ginger, finely shredded
• 1 – Green chilli, finely chopped, optional and adjust to taste
Method:
Peel the cucumber leaving the strips unpeeled. Shred the cucumber, after shredding squeeze the water. Set aside.
Cut the bell pepper in very small pieces and squeeze the water and pet dry, need about 1/4 cup.
In a bowl, mix all the ingredients, mix will have a texture of thick spread.
Spread the mix on two slices of sandwich bread, then close sandwiches with other slices of bread.
Remove the crust from the bread all sides and slice them in two parts.
For clean cut keep the sandwiches aside and slice them after half an hour.
Serve these sandwiches as a snack or they are great for lunch box, or pinic.