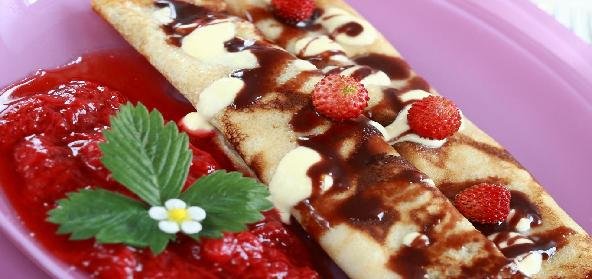 Ingredients:
• For crepe:
• 2/3 cup – flour
• 3 eggs
• 1 1/2 cups – Milk
• 2 tbsp – melted Butter + extra for cooking
• 1/2 tsp – salt
• For filling and sauce:
• 1 cup – Cottage cheese
• 1 cup – Cream cheese
• 1 tsp – vanilla essence
• 500g – cherries, pitted
• 3/4 cup – Sugar
Method:
In a bowl, sift flour and salt.
Make a well in the centre and gradually whisk in the liquid ingredients (eggs, 2 tbsp melted butter, and milk) until a smooth batter is formed.
Cover and refrigerate for 2 hours.
Brush a 7-inch nonstick pan with butter and heat the pan on medium heat.
Pour 1/4 cup batter into it.
Tilt to spread the batter evenly.
Cook until the top is set and the bottom is browned slightly.
Loosen the crepe from the pan.
Invert and cook the other side for 30 seconds until slightly brown.
Cook the remaining crepes like this.
For filling:
Beat the cottage cheese, cream cheese, 1/4 cup sugar, and vanilla essence with a mixer until smooth.
Spread 1 tbsp of cheese mixture on each crepe.
Fold one side, then the opposite side, and roll up the crepe (like a spring roll).
For cherry sauce:
In a skillet, boil 2/3 cup of water and add the cherries. | | Reduce heat, cover, and cook until tender, for about 5 minutes.
Towards the last minute of cooking, add 1/2 cup of sugar.
Add the crepes to the cherry sauce in the skillet, and heat them through over low heat. Serve immediately.
To serve, place two crepes on a plate and spoon some cherry sauce over the crepes.