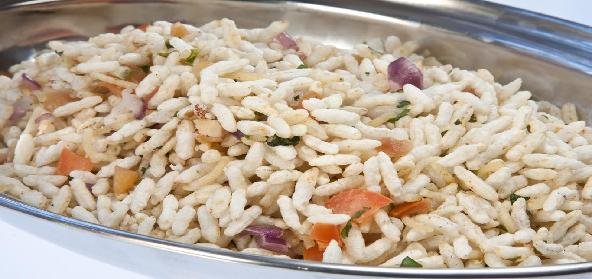 Ingredients:
• 1/2 kg – puffed Rice
• Peanuts, a handful
• 1/2 tsp – Red Chilli powder
• Turmeric powder, a pinch
• Salt to taste
• 1 tsp – Oil
• 1 tsp – Mustard Seeds
• 10-20 Curry leaves
Method:
Heat oil in a pan and add the mustard seeds.
Allow them to splutter and then add the curry leaves. Fry for a minute or so, till crisp.
Add peanuts till they are roasted.
Quickly add chilli powder, turmeric powder, and salt to taste (do not put too much salt).
Add the puffed rice and give it all a good toss in the pan till the puffed rice is crisp and done.
The whole process should not take more than a minute or two.
Take care not to burn the puffed rice.
Remove from pan and transfer it to an airtight container.
You may serve immediately when it is still warm; what is leftover can be stored in an airtight container.
This is great as a tea-time snack or to munch anytime.
Variation: Throw in some chopped onions, tomatoes, grated carrots, chopped coriander leaves, and squeezed lime juice to the puffed rice mixture and you have an instant bhel, ready to eat. Even without chutneys it is delicious.
Recipe courtesy of vidya