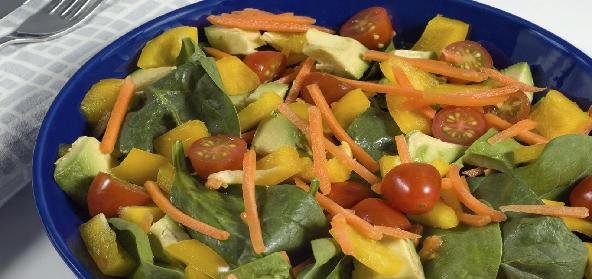 Ingredients:
• 10-12 small tender Spinach leaves (de-stemmed and halved)
• 10-12 tender green runner beans (de-tipped and cut in 1 inch pieces)
• 1 Onion (cut into thin slivers)
• 1/4 cup – soaked and well-boiled garbanzo beans
• 1 tbsp – Burghul Wheat
• 4 Walnuts (split and broken)
• For dressing:
• 1 cup – thick curds (tied in muslin cloth for 30 minutes)
• 1 tsp – fresh Mint leaves (finely chopped)
• 1/4 red bell pepper (very finely chopped) (optional)
• 1/4 yellow bell pepper (very finely chopped) (optional)
• 1 fresh Red Chilli (very finely minced)
• 1/2 tsp – Sugar powdered
• salt to taste
Method:
Put spinach in plenty of boiling water. Cover and stand for 2-3 minutes. Drain, save water to boil beans.
Dab leaves with a kitchen towel, keep aside.
Boil beans in drained water till bright, but not mushy.
Drain, keep aside.
Soak burghul wheat in 1 cup water for 5 minutes.
Drain fully, by pressing out between palms.
Chop walnuts in quarters or smaller pieces, save two halves for garnish.
Mix peas, onion, beans, spinach, wheat and walnuts.
Take in a large transparent bowl.
Chill in refrigerator till dressing is ready.
Beat curd till smooth.
Add all other ingredients, mix well.
Pour three-fourths of dressings over prepared mixture.
Mix with spatula till well-blended.
Pour remaining dressing over salad.
Garnish with saved walnut halves.
Serve chilled with warm pita bread, or Lebanese rice too.
Recipe courtesy of Saroj Kering