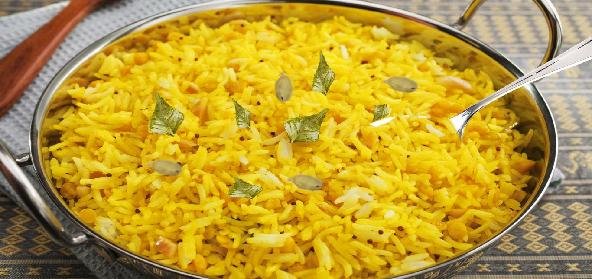 Ingredients:
• Bengal Gram (channa) dal – 2 tbsp
• black gram (urad) dal – 2 tbsp
• cooked Rice – 6 cup
• grated Coconut – 1 cup
• oil – 4 tbsp
• Garlic – 2 tsp, finely chopped
• Curry leaves – 1/3 cup, finely shredded
• black pepper Corns – 1 tsp, crushed
• salt to taste
Method:
Roast the two dals (without oil) till golden brown. Cool and powder.
Heat oil in a Kadai and fry garlic till golden brown.
Add curry leaves, fry for few seconds.
Add pepper corns and coconut and fry till the coconut is light brown.
Add the rice, the dal powders and salt.
Mix well, keep covered on a low flame for 5 minutes.
Serve hot with onion and tomato chutney.