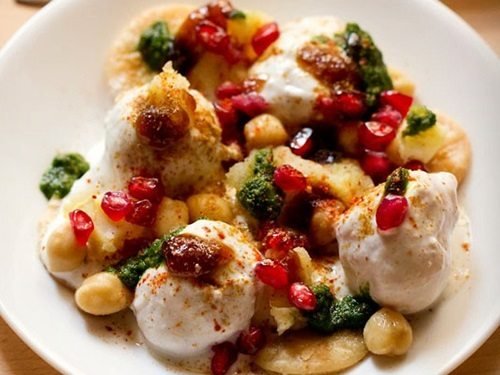 Dahi vada is a popular healthy snack of North India. It is also served as a starter. Dahi Vadas are made from urad dal, dipped in yogurt and topped with tamarind chutney.
Ingredients:
– 250 gm urad dal (black gram dal)
– 1 teaspoon ginger-chili paste
– A pinch of asafoeida
– 1 teaspoon red chili powder
– 1 teaspoon cumin seeds powder
– 600 gm yogurt
– 2 teaspoon sugar
– Tamarind-Dates chutney (khajur-imli chutney)
– 1 teaspoon finely chopped coriander leaves
– 1 teaspoon oil
– Salt to taste
– Oil for frying
How To Make?
1. Soak Urad dal for 7-8 hours. After that, remove extra water from it and grind it.
2. Now, add salt, 1/2 teaspoon red chili powder, oil, ginger-chili paste, asafoeida and mix it well.
3. Take a frying pan and add oil to it.
4. Make small round balls (vada) from the previously made batter.
5. Now, fry this balls (vada) into oil until it becomes golden brown in color. Then remove it from the oil and put it into water for 30 minutes.
6. Now, take a bowl and beat the yogurt then salt, cumin seeds powder, sugar and mix it well.
7. Now, press the soaked vada between your palms and remove extra water from it and keep them aside.
8. To serve dahi vada, Place vada into a plate, spread yogurt to it then add khajur-imli chutney, red chili powder, cumin seeds powder and corianders leaves and serve it.
Preparation Time: 15 Minutes
Cooking Time: 40 Minutes
Servings: 4 Persons