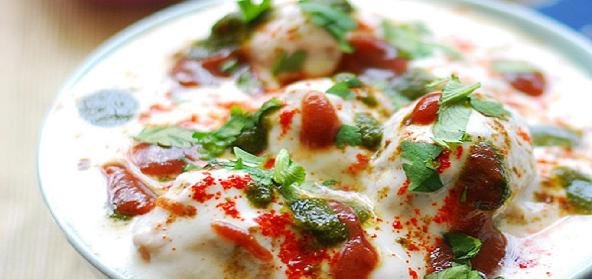 Ingredients:
• 1/4 cup – white, whole Urad Dal
• 1/4 cup to 1/2 cup – Curd
• 1/2 cup – Milk
• 1/4 tsp – chaat masala
• Salt as needed
• 1 tsp – green chutney
• 1 tbsp – sweet chutney
• 1/2 tbsp – coriander leaves, chopped
• 1/4 tsp – Red Chilli powder
• 1/2 – small piece Ginger
• 1 to 2 – Green chilli
• Sev for garnishing
Method:
Soak urad dal for few hours, until soft.
Finely grind the soaked ural dal with ginger, green chilli using only very little water. Grind until smooth and fluffy.
Mix with salt only at the time you are going to deep fry.
Wet your hands and make small lemon sized balls.
Deep fry in hot oil in medium flame until golden colour in all sides.
Flip in between for even cooking.
Drain on paper towels to remove excess oil.
Heat milk until it's hot.
No need to boil it. Then take it in a broad bowl.
Add a little bit of salt and fried vadas to the milk.
Let it get soaked for 20 minutes or so.
Turn over carefully in between.
Beat curd until smooth.
Mix required amount to the curd to make it runny (still thick) consistency. Add the curd to the soaked vadas and mix well.
Add required salt and let it set for 1/2 hour.
Keep in fridge for half an hour.
At the time of serving, arrange in plate and sprinkle green chutney, red chutney, coriander leaves, red chilli powder, chaat masala. Lastly, sprinkle some sev if you want.
Tastes best during summers.