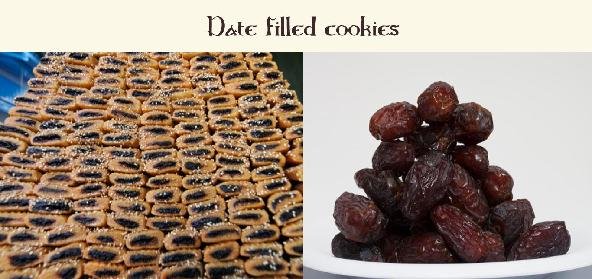 Ingredients:
• Maida (all-purpose flour) – 3 cup
• powdered Sugar – 1/2 cup
• Butter – 1 cup
• rose essence few drops
• water – 3 tbsp, approx
• For filling:
• chopped Dates – 1 cup
• Butter – 2 tbsp
Method:
Mix Maida with sugar.
Add butter in small pieces and rub gently with fingers till it is evenly distributed.
Add essence. Sprinkle water, little at a time and knead the dough till it holds together.
Rest the dough in a cool place for half an hour.
For filling:
Combine butter and dates.
Sprinkle with very little water and heat gently till dates are softened. Cool.
Make lime size balls of dough. Fill with dates.
Flatten slightly and place on a greased baking tray.
Bake in a mode oven (180 degrees centigrade) for about 20 minutes, till pale brown on top.
Cool and store in an air tight container.