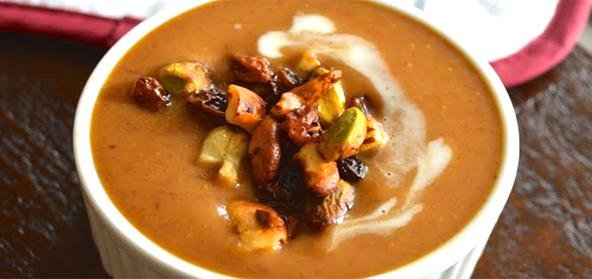 Ingredients:
• 1 litre – Fresh Milk
• 1/2 kg – Dates (deseeded and chopped)
• 1/2 cup – Sugar
• 1/2 cup – Walnut (chopped)
• 3 tbsp – Oats
• 4 tbsp – Roasted Almond (chopped)
• 300 ml – Fresh Cream
• 2 cup – Water
Method:
In a nonstick pan add dates and water and cook on a low flame till the dates turn soft.
Allow the dates to cool. Then using a blender and make a fine paste adding 100 ml milk to the mixture.
Heat the remaining milk in a pan and cook it on low flame add sugar and date paste and mix well.
Add oats and half the quantity of crushed walnut and almond, bring to a boil.
Cool the mixture and refrigerate it.
While serving steer in the cream and garnish with remaining nuts.
This recipe is provided by Chef Praveen Gonsalves from Barbeque Nation.
Recipe courtesy of Barbeque Nation