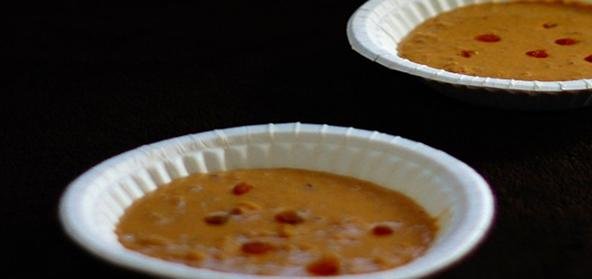 Ingredients:
• Payasam Rice – 1/2 cup (approx 125 grams)
• Dates – 20 nos
• Raisins – 20 – 30 nos
• Milk – 2 litres
• Condensed Milk – 200 gms
• Brown Sugar/Jaggery – 100 grams
• Home Made Ghee – 2 tbsp
• Almonds Powder – 50 gms
• Cardamom Powder – 1/4 tsp
Method:
Wash Rice in two changes of Water.
In a non-stick, heavy bottomed deep vessel boil Rice in 1700 ml of Milk.
Reduce to medium flame and cook till it becomes soft and gooey (about 50 mins). Stir frequently to prevent from sticking.
Meanwhile heat 1 tbsp Ghee in a non-stick pan and stir the seedless Dates for 2 mins on medium flame.
Transfer this to a blender and make a smooth liquid. Pass through a fine sieve, to filter the Dates skin if any.
In the same pan heat the remaining 1 tbsp Ghee and stir Raisins for about 2 mins till they swell up.
To the cooked Rice add the Dates-Milk, Almond Powder, Sugar and Condensed Milk, mix well and on medium flame allow to cook for 5 mins.
Sprinkle the Cardamom Power and Raisins. Mix well.
Serve hot.