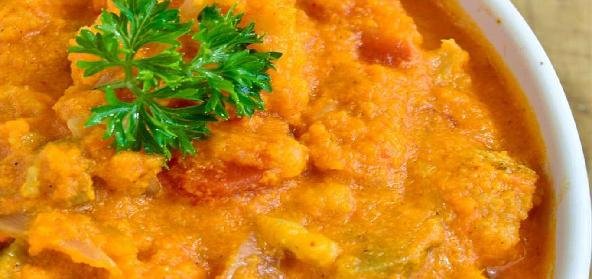 Ingredients:
• Onion – 1 large, chopped
• Mixed Vegetables – 3 cups (beans, carrots, peas, cauliflower, potato, sweet corn)
• Turmeric powder – pinch
• Tomato – 1 large, chopped
• Cilantro – finely chopped, to garnish
• Salt – to taste
• Oil – 2 tbsp
• For the paste:
• Coconut shredded – 2 to 3 tbsp
• Green chillies – 10 to 12
• Cashew nuts – 20
• Fennel seeds – 2 to 3 tsp
Method:
Soak the cashewnuts in warm water for 20 mins. Heat a little oil in a heavy vessel and fry the chopped onions.
Add the mixed vegetables (except tomato), turmeric, salt and a little water. Cover the vessel and cook well till they become soft.
In a blender, put together the soaked cashewnuts, green chillies, coconut flakes and the fennel seeds. Make a smooth paste, adding little water as required. (you don't have to waste the water in which you soaked the cashewnuts, you can add it to the vegetables).
When the vegetables are well cooked, add the above paste and cook again till it mixes well with the vegetables. Add water as required. When almost done, add the chopped tomato and cook for a few minutes. Add more salt if required.
Garnish with finely chopped cilantro and serve with chapattis or rice.
Variation: Instead of the mixed vegetables, you could use only potato or only cauliflower or any other vegetable, according to your choice.
Recipe courtesy of Uma Ganesh