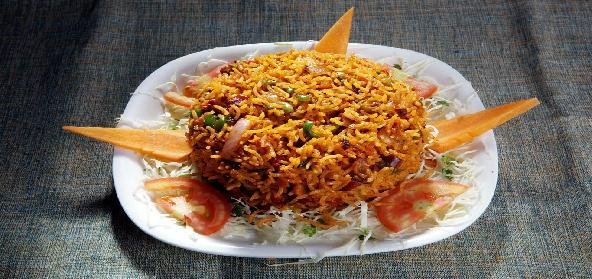 Ingredients:
• Basmati Rice – 2 cups
• Water – 5 cups
• Onions – 2 big ones
• Dhania powder – 2 tsps
• Garam Masala – 1 tsp
• Chopped vegetables ( potato, carrots, peas and cauliflower) – 2 cups
• Tomato -1 chopped
• Oil – 4 tsps
• Coriander and Curry leaves to garnish
• Salt to taste
Method:
Cook the basmati rice with 4 cups of water.
In a kadai, fry the onion well with a little salt.
Add dhania powder, garam masala and saute till the onions are fried well.
Add vegetables, tomatoes and saute on low heat with a little more salt.
After 5 mins, take a serving plate and spread the rice.
Top with the fried onions, vegetables and give it a quick stir taking care not to break the rice.
Serve with papads and onion raitha.
Recipe courtesy of Sampath Santhanagopalan