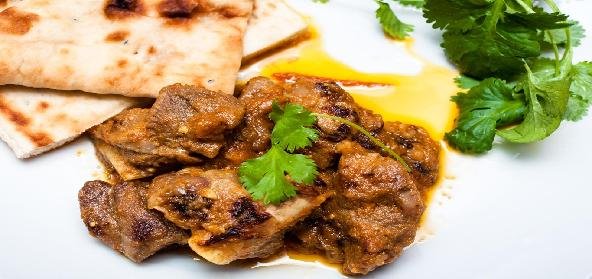 Ingredients:
• Mutton Chops – 1 kg
• Dahi – 500 g
• Freshly ground sabut Dhania – 3 tbsp
• Red Chilli powder – 2 tsp
• Salt to taste
• Desi Ghee – 4 tsp
Method:
Wash the chops and wipe them with a towel to remove any extra water.
Beat the curd till it turns smooth and add ground dhania, salt and chilli powder and mix well.
Put the chops one by one and see to it that each chop is coated well with the curd mixture. Marinate it for at least 3 hours.
Put it in a wok and cook it on a low fire. Once the chops are cooked, remove from the fire, and wait till the dahi evaporates and the excess water is removed.
Add some more of the thick masala on the chops and mix well.
Now, put it on a slow fire and add desi ghee and baste it till the aroma fills the air.
Serve with onion rings.
Recipe courtesy of Prabha