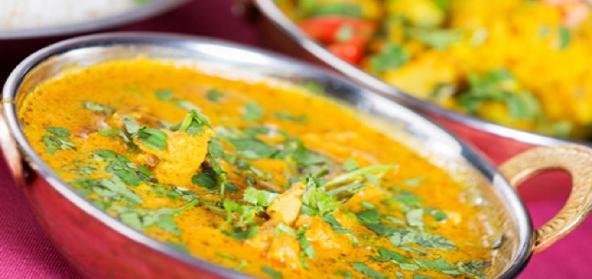 Ingredients:
• 2 cups – Channa dal
• 1 potato, diced
• 1 tsp – Garam Masala powder
• 1 tbsp – Coriander seeds (paste)
• 1 tbsp – cumin powder
• 1/4 tsp – Turmeric powder
• 1/4 cup – Curd
• 2 tbsp – Ginger paste
• 3 Green chillies
• 1 tbsp – Ghee
• Salt to taste
• Ghee for frying
Method:
Wash and soak the chana dal overnight. Grind it with a little ginger, salt and green chillies.
Roast the garam masala, cumin and coriander (together and grind to a fine powder)
Heat ghee in a kadai and fry the chana dal paste until dry.
Spread the mixture on a greased plate. Cut the fried paste into diamond shapes and fry in deep ghee till golden brown.
Now add the potatoes and fry till brown. Strain and keep aside.
In the same ghee, add the ginger paste, powdered spices, chilli powder, salt and curd.
Fry till the oil separates.
Add water, the fried potatoes and bring to a boil.
Drop the fried dhokars into the mixture and cook for 2 mins.
Add ghee and garam masala and cook for a while.
Remove from fire and serve hot with steamed rice.