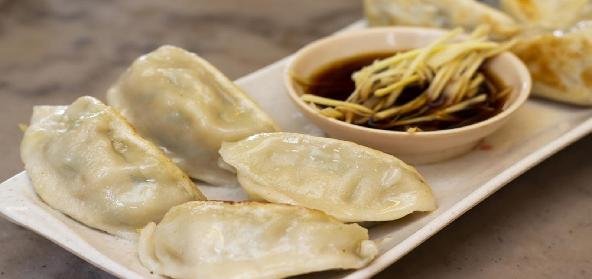 Ingredients:
• 1.5 cups flour
• 1/2 cup powdered Sugar
• 1 tsp baking powder
• 2 tbsp soft Butter
• 1 tsp Vinegar
• For the Filling:
• 1 cup coarsely chopped cooked Chicken
• 1 tbsp soya sauce
• 1 tbsp minced green Onion
Method:
Sift flour, sugar and baking powder.
Rub in butter, add vinegar, then add enough water to form a soft dough. Knead well.
Mix all the filling ingredients together.
Divide the filling and the dough into equal number of portions.
Flatten each portion of dough as thinly as you can on the palm of your hand, put a portion of filling and fold over in crescent or half moon shape.
Seal and pinch the edges together.
Place each dumpling on a piece of wax paper and steam for half an hour or till the dough is cooked.
Serve on the wax paper with sweet and sour sauce.