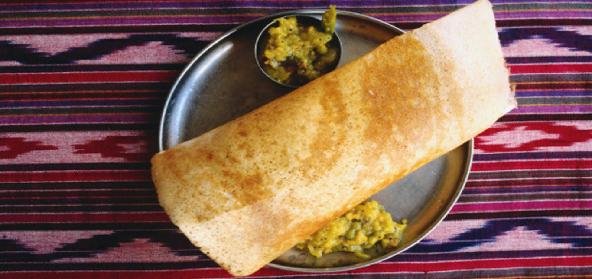 Ingredients:
• 1 cup – urad dhal
• 2 cups – Rice
• 1 tsp – Methi seeds
• Oil (as needed)
• Coconut chutney:
• 1 cup – Coconut
• 4 – Green chillies
• 1 tsp -oil
• 1/2 tsp – Mustard Seeds
• Salt to taste
• Curry leaves
Method:
Soak (overnight) and grind dal with methi seeds and rice separately to make a smooth batter that can be poured easily.
Heat tava, add a ladle of batter and spread till it is paper thin.
Pour a spoonful of oil around the circumference of the dosa and flip to cook the other side.
Serve hot with coconut chutney /sambar / aloo masala curry.
For coconut chutney:
Grind coconut and green chillies and salt. Heat oil. Add mustard seeds to splutter and curry leaves. Add to the chutney.
Recipe courtesy of Kanchan