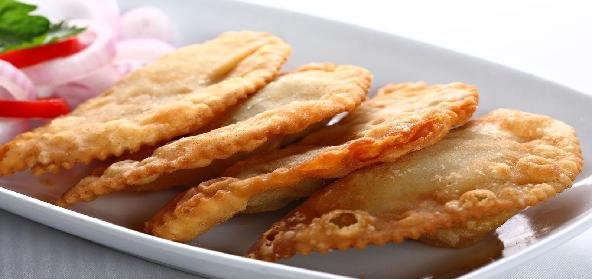 Ingredients:
• 1.5 cups – Maida (flour)
• 50 g – powdered Almond
• 50 g – powdered Pistachio
• 50 g – powdered Cashew nut
• 50 g – grated dry Coconut
• 50 g – powdered dry Dates (kharek)
• 125 g – powdered Sugar
• 1 tsp – powdered Cardamom
• ½ tsp – Nutmeg powder
• 4 tbsp – warm Ghee
• Ghee for frying
Method:
Prepare soft dough by adding 4 tbsp ghee and a little water. Keep aside.
Mix all the ingredients for the stuffing.
Roll out puris from the dough with a rolling pin.
Place 1 tbsp of stuffing in the center of the puri, fold the puris in such a way that it forms a semi circle and the outside edges meet each other.
Lightly press the edges with your fingers and form a 'kangri'.
Alternatively use a mould to form a gugra.
Deep fry in ghee on a low flame till golden brown.
Recipe courtesy of Anita Raheja