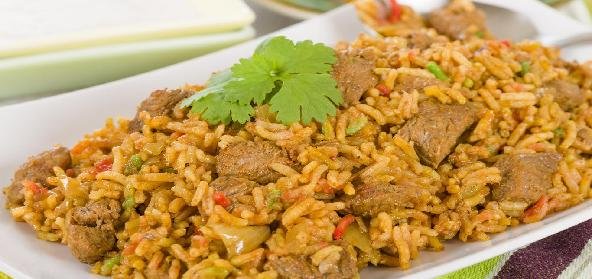 Ingredients:
• 1/2 kg basmati Rice
• 1/2 kg Mutton
• 200g yogurt
• 175g Ghee
• 150g Ginger Garlic paste
• 4 Onions
• 4 Tomatoes
• Mint leaves, a handful
• 2 handfuls Coriander leaves
• 1.5 tsp chilli powder
• salt to taste
• juice of half a Lemon
• 6 Cardamoms
• 1 inch Cinnamon
• 6 Cloves
Method:
Wash and clean the mutton. Keep it aside.
Heat ghee and add the whole spices.
When they splutter, add half the onion and saute till it turns a light brown.
Add half of the ginger-garlic paste and fry well
Add mutton. Stir well.
After 5 minutes, add the remaining onion, ginger-garlic paste, chilli powder, salt, mint and coriander leaves.
Add the tomatoes and fry till the oil separates.
Add yogurt.
Next, add water (for 1 cup of rice add 1.75 cups of water).
When the water boils, add lemon juice and then the rice.
Keep flame on high.
When water is absorbed, reduce flame and cover with a lid for 10 minutes.
Serve with onion raita.
Recipe courtesy of Rrizvana Asif