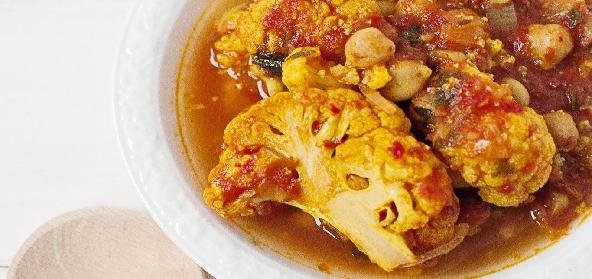 Ingredients:
• 500 g – Cauliflower (cut into medium sized florets)
• 3 medium sized Onions (finely chopped)
• 3 Tomatoes (finely chopped)
• 1.5 tsp – Ginger and Garlic (crushed)
• 2 finely chopped Green chillies (or as per taste)
• ½ tsp – Turmeric powder
• 2 tsp – coriander powder
• 1 tsp – Red Chilli powder
• 2 tbsp – fresh Coriander leaves (finely chopped)
• 3 tbsp – oil
• salt to taste
Method:
Wash the cauliflower well. Rub all over with salt.
Put into a shallow microwave safe dish and microwave at 100% power for 6-8 minutes depending on the quality of the vegetable. Keep aside.
Heat oil in a microwave-safe dish, and microwave at 100% power for 2 minutes.
Add the onions. Continue to cook at the same power level for 3 minutes.
Add the tomatoes, chillies and crushed ginger-garlic. Mix well. Continue cooking for 4 minutes.
Add the powdered spices and very little salt.
Continue cooking for 4- 5 minutes or till the oil starts to separate.
Stir in the finely chopped coriander leaves.
Add this mixture to the cauliflower and mix well.
When you are ready to serve, microwave at 70% and grill for 8 minutes. Now add the cauliflower in.
Cook at this power level till the cauliflower is heated right through and browned as well.
Recipe courtesy of Anita Raheja