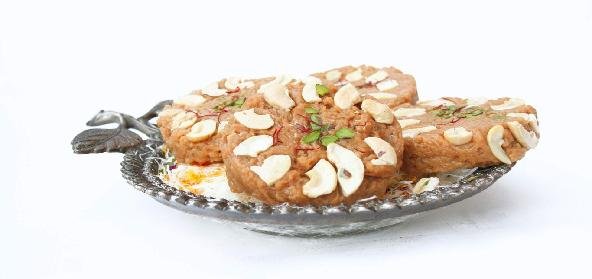 Ingredients:
• Ricotta cheese – 2 cups
• Half and half Milk (or whole Milk) – 3 cups
• Sugar – 1 cup
• Almonds – 10
• Cardamom powder – 1/2 tsp
• Ghee – 1 tsp
• A few strands – Saffron
Method:
Pour the milk in a pan and boil it to half the quantity.
Add sugar and ricotta cheese and boil again.
Add saffron to the milk mixture.
Keep stirring until the mixture becomes thick and leaves the sides of the pan.
Add cardamom powder and mix well.
Grease a plate with ghee.
Pour the mixture on the plate and flatten quickly.
Garnish with almond slices.
When the kalakand cools down, cut into diamond-shaped pieces.
Recipe courtesy of Manjula Kolluru