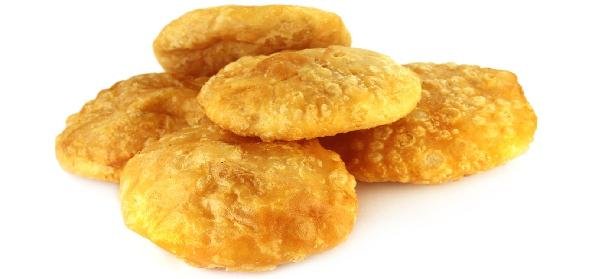 Ingredients:
• Maida – 250g
• Salt to taste
• Ghee – 1 tbsp
• For the stuffing:
• Red Ganthia/bhujia – 50g
• Saunf – 2 tsp
• Coriander seeds – 2 tsp
• Jeera – 2 tsp
• Salt to taste
• Amchur powder – 2 tsp
• Red Chilli powder – 1 tsp
• Garam Masala – 1 tsp
• Oil for frying
Method:
Make a semisoft dough by mixing maida, salt, ghee, and water.
Keep it covered for 30 minutes.
For the stuffing, grind the red ganthia/bhujia sev.
Roast the saunf, coriander seeds, and jeera till they send out aroma or till they turn light brown.
Grind them when cool.
Add the above masalas and mix well.
Make small balls from the dough and roll out a puri from each.
As you roll one puri, place 1 teaspoon of the stuffing and gather the sides and form a ball.
Flatten it slightly with your hands and then gently roll it to shape like a cookie.
Similarly stuff all puris.
If the dough has become dry, you may make it soft by sprinkling some water over it.
Heat the oil properly. When done, reduce flame and gently float the kachodis in it.
Fry till both sides turn crispy brown.
Recipe courtesy of Rupali