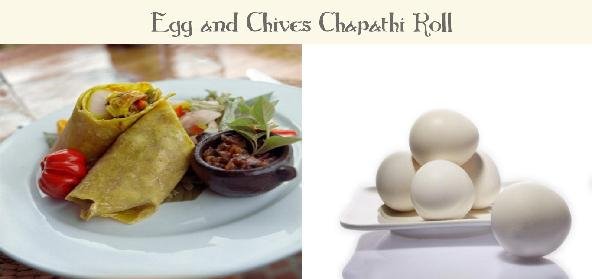 Ingredients:
• lightly cooked round chapattis – 6
• eggs – 6, lightly beaten
• Garlic chives – 1/2 cup, finely chopped
• oil to brush
• pepper to taste
• salt to taste
Method:
Add chives, salt and pepper to eggs.
Heat a non-stick fry pan and brush lightly with oil.
Pour 1/6 of egg mixture on it and swirl the pan to spread the egg.
Cover the egg mixture with one chapathi and press lightly to stick.
When the egg mixture is set, turn over the chapathi (with a layer of egg sticking to it) and cook for few seconds.
Roll up and remove from fire.
Prepare all the rolls like this.
Serve hot with ketchup.