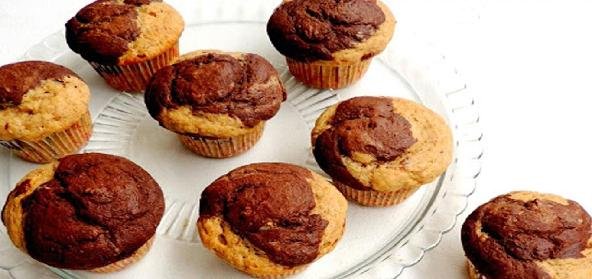 Ingredients:
• 2.5 cups – all-purpose flour
• 1/4 cup – Butter
• 1/2 cup – Sugar
• 1/2 cup – creamy Peanut Butter
• 1 cup – Banana puree
• 1 tsp – baking powder
• 1/2 tsp – baking soda
• 2 tbsp – cocoa powder
• 1 cup – yogurt
• 1/4 tsp – salt
Method:
Preheat the oven to 350F and line the muffin pans with paper moulds.
Beat together the butter, sugar, peanut butter together until they turn smooth.
Now add the yogurt, banana puree and beat for few minutes.
Sieve the flour with salt, baking soda and baking powder and gradually add to the prepared wet ingredients.
Mix everything well with a spatula.
Divide the batter in two bowls, add the cocoa powder to a bowl and mix gently
Spoon the peanut-banana muffin batter to the paper moulds, top it with the cocoa muffin batter.
Bake for 20-25 minutes.
Recipe courtesy: Priya Easy N Tasty Recipes.