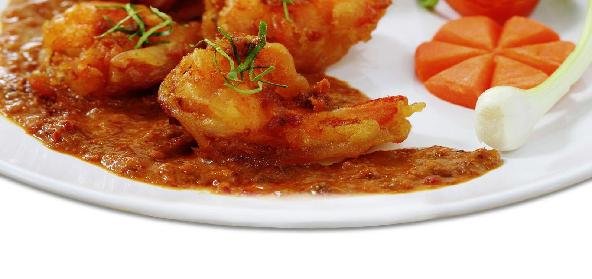 Ingredients:
• 2 to 3 – eggplants, cut into 4 cm long pieces and halved
• 8 – fresh Prawns (with tail intact)
• 2 cm – shrimp paste
• 2 Cloves – garlic, chopped
• 1 – large onion, chopped
• 2 tsp – chilli paste
• 1 cm – fresh turmeric, pounded
• Salt and Sugar to taste
Method:
Heat the wok. Put in the shrimp paste, break it into bits and roast until fragrant.
Then add in 6 tbsp oil. Stir fry the garlic and onions.
Add in the prawns, pounded turmeric and chilli paste.
Add oil if paste is dry.
Finally, add in the eggplant and stir fry until cooked on all sides.
Season with salt and sugar.
Sprinkle a bit of water. Cook until done. Use low flame for this dish.
Recipe courtesy of Sudha Mohan