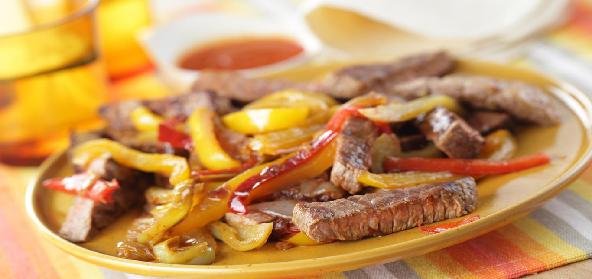 Ingredients:
• 1.5 lbs – Beef skirt steak, cut in strips
• 6 – Garlic cloves, chopped
• Juice of 1 Lime
• A large pinch of mild chilli powder, paprika and cumin
• 2 tbsp – extra virgin Olive oil
• 12 – flour tortillas
• Vegetable oil (for frying)
• Salt & pepper to taste
• Salsa, shredded cheese, guacamole and sour Cream for garnish
Method:
Combine beef with 1/2 the garlic cloves, 1/2 the lime juice, chilli powder, paprika, cumin and olive oil.
Add salt & pepper.
Mix well & marinate for at least 30 minutes at room temperature or overnight, keeping it sealed & refrigerated.
Cut meat into bite sized strips and grill in 1 tbsp oil in large skillet over high to medium high heat until it turns brown & gets cooked thoroughly.
Serve with salsa, sour cream, guacamole & cheese.
Recipe courtesy of Texmextogo