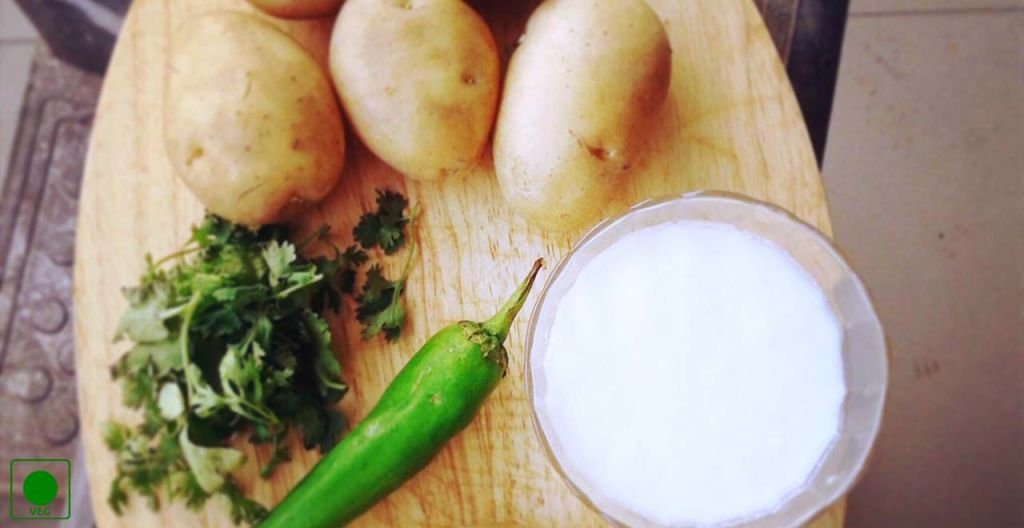 A yet another potato recipe for fasting or vrat/upvas and that is ?Dahi Aloo'. This is an absolutely delicious, quick and very light to eat. Dahi Aloo recipe is basically a potato curry in a yogurt base. In this recipe, the potatoes are boiled first and then simmer into spicy and thick curry of yogurt with adding some coarsely ground peanuts powder which adds nutty flavor to this curry. Dahi Aloo is very simple yet delicious and full of flavors. So try out this recipe today.
Ingredients
– 2 medium potatoes
– 1/3 cup yogurt
– 2/3 cup water
– 1 tablespoon ghee
– 1/2 teaspoon cumin seeds
– 1 finely chopped green chilli
– 1 teaspoon ginger paste
– 1 tablespoon coarsely ground peanuts
– Rock Salt to taste
– 1 teaspoon red chilli powder
– 1 teaspoon cumin powder
– Few finely chopped coriander leaves
How To Make?
1. Wash the potatoes first and place them into pressure cooker along with required water and rock salt.
2. Cover the pressure cooker with its lid and put it on MEDIUM flame then cook the potatoes for 2-3 whistles. Set it aside and let it cool.
3. Meanwhile, add yogurt in a large bowl, then add water to it and whisk it well until it becomes smooth. Set aside.
4. Peel the potatoes and cube them to the medium sized pieces.
5. Now, Heat the ghee in a pan, then add cumin seeds and let them crackle.
6. Add chopped green chilli and ginger then saut? them for a while.
7. Then add peanut to it. Mix them well and cook it for a minute.
8. Lower the heat now and add red chilli powder, cumin powder and rock salt. Stir it and cook it for 15-20 minutes.
9. Now, add cubed potatoes and stir it well so that the masala coats the potatoes well.
10. Now, add prepared yogurt mixture to the potatoes and mix well.
11. Simmer it for about 7-8 minutes again and stir in between regular intervals.
12. After that mash few pieces of potatoes with the help of spatula to thicken the gravy.
13. Again let it simmer until the gravy becomes thick.
14. Now, remove it from the heat and place this into serving bowl.
15. Garnish it with chopped coriander leaves and serve this tempting dahi aloo with rajgira poori.
Preparation Time: 20 Minutes
Cooking Time: 15 Minutes