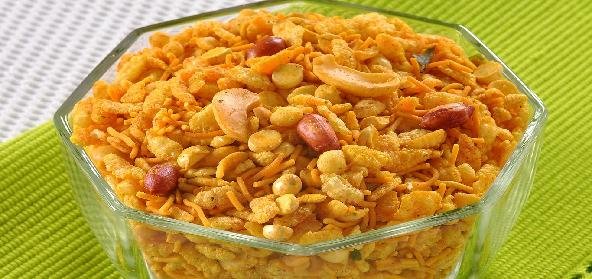 Ingredients:
• 1/2 cup – cornflakes for frying
• 1 tbsp – Peanuts
• 2 tsp – each raisins, cashews
• 1 stalk – Curry leaves
• 2 – Green chillies chopped to 1/2 inch pieces
• 1 tsp – Red Chilli powder
• 3-4 – pinches citric acid powdered
• 1/2 tsp – Sugar
• salt to taste
• oil for deep frying
Method:
Deep fry the cornflakes in hot oil till they are crispy but don't let it become brown in colour.
Drain and place it in a wide plate.
Repeat it for all the flakes.
Next fry the peanuts, curry leaves, cashew, raisins, green chillies one at a time.
Drain it thoroughly.
Add it to the fried flakes.
Sprinkle all the other ingredients over the flakes.
Mix it with your hands till the masala is evenly coated.
Store it in an airtight container.
Recipe courtesy of Saroj Kering