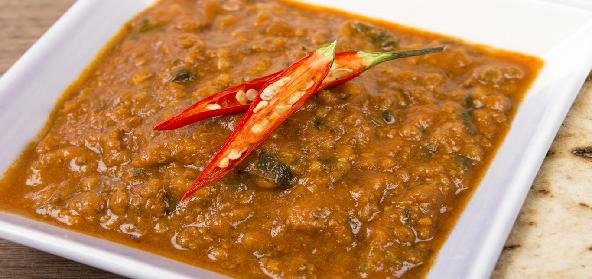 Ingredients:
• 2 – heads of any fish
• 1.5 cups – yellow moong dal
• 1 – small Onion
• 1 inch piece – Ginger
• 3 Cloves – Garlic
• 1/4 tsp – Turmeric powder
• 1.5 tsp – cumin powder
• 1 tsp – coriander powder
• 1/4 tsp – black pepper powder
• 1-2 tsp – Red Chilli powder (or to taste)
• 2-3 – green chillies, whole
• 2 – Bay Leaves
• 1 tsp – Bengali Garam Masala (dalchini, elaichi and lavang – equal portions ground to a fine powder)
• 1 medium – tomato, chopped
• Salt, to taste
• 1/4 tsp – Sugar
• 1 – Cinnamon stick
• 1/4 tsp – whole cumin
Method:
Clean the heads of the fish thoroughly, removing the gills and eyes. Cut the head into four pieces.
Sprinkle salt and turmeric powder and coat to cover the pieces. Keep aside for 10 minutes and then rinse out in cold water.
Add fresh turmeric on the pieces. Deep fry the pieces and keep aside.
Meanwhile, boil the moong dal in sufficient water with turmeric and salt. The dal should be soft – do not mush it up – the lentils should be visible.
Make a paste of the onion, garlic and ginger.
In a karahi or wok, heat oil. Add the bay leaves, cinnamon stick, slit green chillies and whole cumin.
Once the cumin starts to splutter, add the onion-garlic-ginger paste, fry over medium heat taking care not to burn the paste.
Then add chopped tomatoes and then the fried fish heads.
Mix well and then add the dry powders (cumin, coriander, black pepper and chilli powder). Stir to coat all the pieces and then pour in the prepared dal.
Mix well and bring to a boil. Check for salt and add the sugar. The dal should not be too watery.
Once the dal comes to a boil, sprinkle Bengali garam masala and serve hot over steamed white rice.
Recipe courtesy of Rashmita