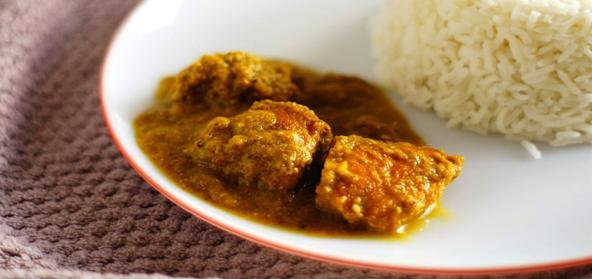 Ingredients:
• To Marinate:
• Fish – 400 grams
• Turmeric – 1 tsp
• Salt – to taste
• To Grind:
• Cardamom – 4 nos
• Cloves – 4 nos
• Cinnamon Stick – 2 inch
• Ginger-Garlic Paste – 2 tbsp
• Onion – 2 medium size
• Water – 50 ml
• Other:
• Red Chilli powder – 1/2 tsp
• Turmeric powder – ¼ tsp
• Bay Leaf – 2 nos
• Salt – to taste
• Mustard oil – 3 tbsp
• Ghee – 1 tbsp
• Green chillies – 2 de-seeded (optional)
• Water – 100 ml
• Mix Together:
• Yoghurt – 1 cup (250 ml)
• Brown sugar (Cane Sugar) – 1 tsp
Method:
Cut fish into small bite size pieces of 1 inch X 1 inch size. Wash and clean fish thoroughly, drain.
Rub turmeric and salt and marinate for about 10 minutes.
Roughly chop onion and all under 'to grind' to a smooth paste.
Heat a non-stick fry pan and heat oil and ghee.
Fry fish on each side for about 4 minutes on medium flame, if you are using a flat fish. If you have cut the fish into cubes, fry each side for about 2-3 minutes.
Remove to a plate.
In the remaining oil add the bay leaves, stir for 30 seconds.
Add the ground paste and stir for about 5-8 minutes till all the raw tastes leave and oil separates.
Now add red chilli powder, turmeric powder and stir for another 3 minutes.
Add the salt to taste.
Now add yoghurt little at a time while stirring the paste constantly.
Add water and the fried fish and simmer for a further 10 minutes on low flame.
Serve immediately with steamed basmati rice and Bengali style dal.