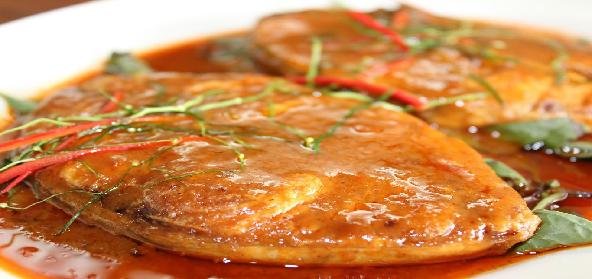 Ingredients:
• 250 g – fish (Rawas, Surmai or Halwaa)
• 1 – Onion (cut in strips)
• 1 inch – Ginger (make paste)
• 10-12 – Green chillies (chopped)
• 1 – stem Curry leaves
• 1 – Tomato (sliced)
• 1/2 – Coconut (grated)
• 1/2 tsp – Cornflower
• 1/2 – Lime Juice
Method:
Marinate fish in salt for 15-30 minutes and fry it moderately in medium flame.
Saute the onion, ginger, chillies, curry leaves and tomato in oil till light brown.
Soak the grated coconut in warm water and then remove the water and keep it aside as first milk.
Take some of the milk and pour it into fried masala and put in fish pieces. Cook for 10 minutes.
When cooked, add cornflower dissolved in water and boil. Then add first milk.
Before serving, add juice of half a lime to taste.
Recipe courtesy of Malini Bisen