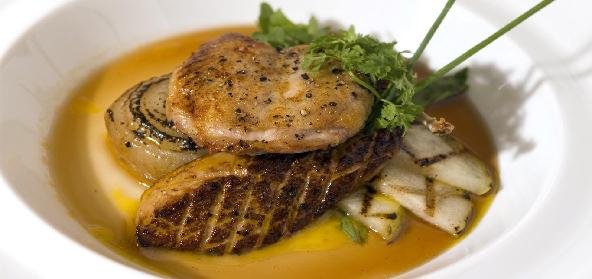 Ingredients:
• 4 – scallops
• 4 tbsp – foie gras (chopped)
• 1/4 – chopped iceberg Lettuce
• 1/4 tsp – Cilantro (coriander leaves)
• 1/4 tsp – chopped fresh Ginger root
• 1/2 tsp – soy sauce
• 1/4 tsp – curry powder
• 1/4 tsp – Butter
• Salt to taste
Method:
In a saucepan melt butter at low heat
Add curry powder and let the aroma develop. (Fry gently. It burns easily.)
Add scallops. (Place them evenly in the pan and turn gently) and fry at medium heat
Set the scallops aside and fry the fois gras in the same skillet.
Turn up the heat. It should be crunchy and not burnt.
Add soy sauce and deglaze.
Add lettuce and let it just wilt.
In a serving platter, spread lettuce in the centre and arrange the fois gras in the lap of the lettuce.
Place the scallops on the platter in a diamond pattern.
Garnish with cilantro, salt and ginger evenly.
Recipe courtesy of Sify Bawarchi