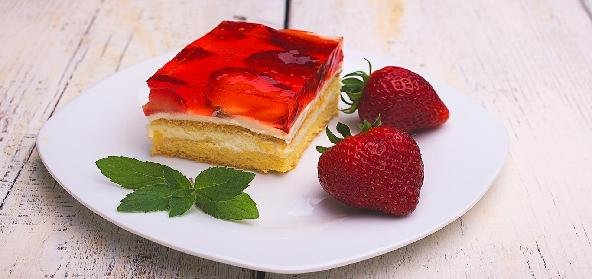 Ingredients:
• 50 g – flour
• 50 g – Butter
• 1 Egg
• 50 g – castor Sugar
• 1/2 tsp – baking powder
• 1/2 packet jelly
• 1 small cup – Cherries
• 1/2 cup -broken Walnuts
• 2 Bananas
• 10 g – strawberries
• 2 cups – thick Cream
• 2 tsp – Sugar
Method:
To make the easy sponge cake:
Beat up the butter and sugar in a bowl until the mixture is light and fluffy and break the egg into the mixture.
Sieve flour and baking powder and mix into the butter and egg mixture little by little, beating continuously, until the mixture is soft and light.
Grease a round baking pan and line it with grease-proof paper. Pour the batter into it.
Heat oven to 375 degrees F and bake for about 30 minutes. To test whether cake has baked properly, insert a knife in the middle of the cake.
If it comes out absolutely clean, the cake is ready.
Take out the cake, cool and put it in the bottom of a big serving bowl.
Set aside.
Dissolve jelly crystals in water.
Slice the bananas thinly, wash and clean the strawberries.
Mix together half of the fruit mixture with the dissolved jelly and pour it over the cake.
Leave the bowl in a cool place to set. When it is set, arrange the cherries and the remaining fruits on top.
Beat up cream with a little sugar and spread it evenly on trifle.
Before serving, decorate with broken walnuts.