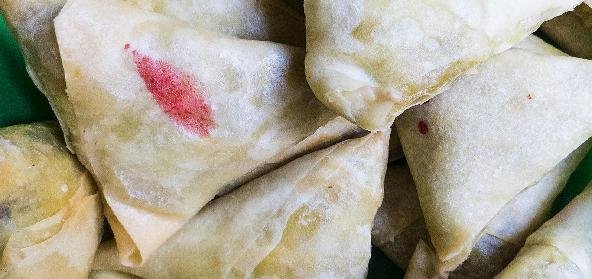 Ingredients:
• 1.5 cups – plain flour
• 3 tbsp – Ghee
• 18 to 20 – Cloves
• 1/2 tsp – Cardamom powder
• 1.5 cup – Sugar
• 1 cup – khoya
• Ghee to deep fry
Method:
Refrigerate khoya for 30 minutes.
Add 1 cup water to sugar and bring to a boil.
Add 2 tbsp. milk to the syrup and remove scum.
Boil syrup till sticky and cool it.
Meanwhile, add ghee to flour and mix till crumbly.
Add warm water to make a medium stiff dough.
Divide into 18-20 parts, and roll into balls.
Roll each into a thin chapatti.
First fold in half and then quarter.
Insert a clove at the centre to hold all the folds together.
Deep fry in hot ghee .
Break khoya till coarse crumbs are formed.
Mix the cardamom and khoya into the cooled syrup and chill syrup.
One hour before serving, immerse the triangles in the syrup.
For serving, place a triangle in the bowl and pour a spoonful of syrup on top.
Serve cold.
Recipe courtesy of Saroj Kering