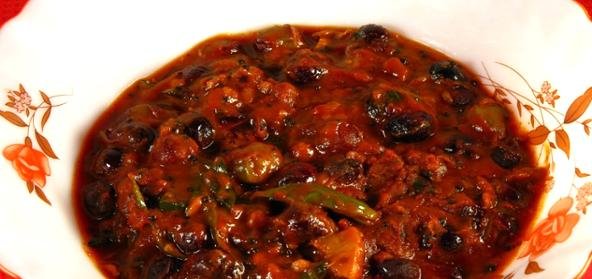 Ingredients:
• Seeded Green Grapes – 100 grams
• Seeded Black Grapes – 100 grams
• Chili Powder – 3 tbsp
• Green Chili – 5 nos
• Turmeric powder – ½ tsp
• Oil – 75 ml (add more if necessary)
• Fenugreek Powder – ½ tsp
• Asafoetida Powder – ¼ tsp
• Water – 100ml
• Vinegar – 25 ml
• Mustard Seeds – 1 tsp
• Salt to taste
Method:
Wash and clean the grapes without peeling the skin.
Slit the chili lengthwise.
Heat oil in a deep bottomed pan, add mustard seeds allow to pop.
Now add the curry leaves and sauté for 2 mins.
Add the turmeric and chili powder and sauté for another 4 minutes, till the raw flavour leaves.
Now add the remaining ingredients except vinegar.
Bring to boil. Reduce flame, cover and simmer for 15 mins, till water is reduced.
Remove from flame. Allow to cool completely and now add the vinegar.
Store in an air-tight glass container.