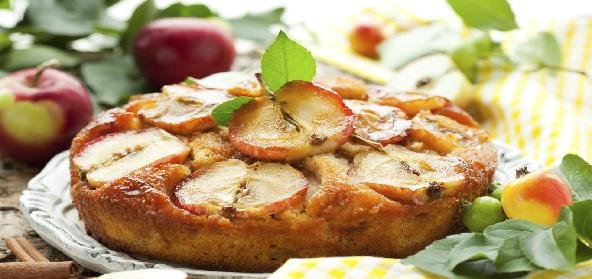 Ingredients:
• 250 gm – Maida
• 1 1/4 tsp – baking powder
• 180 gm – powdered Sugar
• 3 eggs
• 180 ml – oil
• 1 tsp – Cinnamon powder
• 2-3 tsp – oil for oiling the cake tin
• 2 green or golden apples cored and cut into slices
• 3 tbsp. – Brown sugar
Method:
Core the apples and cut into thin circular slices. Heat the brown sugar and allow it to melt. Lower heat and fry a few slices of apple at a time, only for 10-15 seconds. Turn over so that the slices get slightly coated with the brown sugar. Oil a circular cake tin and place the coated apple slices in a circular shape so that the bottom of the cake tin is lined with the green apple slices.
Sift together maida, baking powder, and cinnamon powder, and keep aside. Blend together the powdered sugar, eggs and oil in a mixer. Run the mixer with frequent pauses till the sugar blends with the egg and oil.
In a mixing bowl, place the dry ingredients – the sifted maida and baking powder. Mix the wet mixture into the dry ingredients gently and slowly so that the dry and wet ingredients mix well together.
Now, pour this mixture into the prepared cake tin. Place in a pre-heated oven to bake at 180 degrees C for 45 mins. Insert a skewer or a knife in the centre of the cake and when it comes out clean, gently place a plate on the cake tin and turn over so that you get an upside down cake. You may line the bottom of the cake tin with butter paper. This will make it easier for you to overturn the cake.