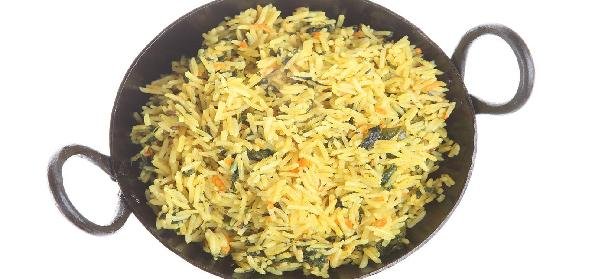 Ingredients:
• 6 cup – cooked Rice
• 1 cup – Chinese beans sprouts
• 1 cup – Shallot (small onions), thinly sliced
• 1/2 cup – Mint leaves
• 1/2 cup – Coriander leaves
• 1/3 cup – green mango, grated
• a handful mustard greens (Sarson ka patha)
• 2 to 3 Green chillies
• 1 tsp – ginger, chopped
• 2 tbsp – oil
• 2 tbsp – Lemon grass, chopped finely
• salt to taste
Method:
Roughly chop the mustard greens.
Combine them with mint, coriander, green chilli and ginger.
Place in a thick pan. Sprinkle with little salt.
Cover and cook till the greens are soft (Do not add water).
Cool and blend to a very coarse paste (Do not blend till smooth).
Heat the oil in a non-stick Kadai or deep fry pan.
Add shallots and fry till golden brown.
Add lemon grass and mango.
Stir fry for 2-3 minutes.
Add the greens paste, fry well.
Add beans sprouts. Fry till they just wilt.
Add the rice and salt.
Mix well and keep covered on a low flame till heated through.
Serve hot with a Thai curry.