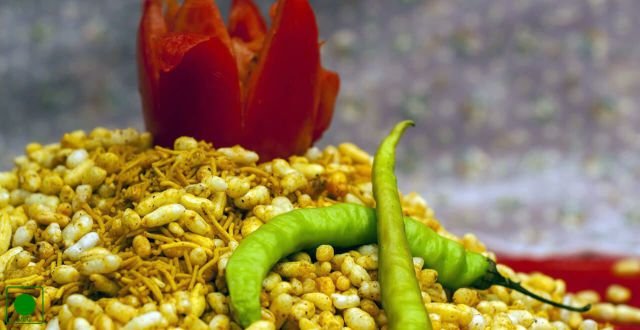 Sev Mamara is a puffed rice snack. It is known by different names, murmura, chiwra, chiwda across India. It's a best tea time snacks to enjoy. To make the sev mamars you required puffed rice, nylon sev, red chili powder, etc. Let's see how to instantly make sev mamara.
Ingredients:
– 1 medium bowl puffed rice (Mamra)
– 2 cup nylon sev
– 1 tablespoon red chili powder
– 1 tablespoon turmeric powder
– Salt to taste
– 1/2 teaspoon sugar powder
– 2 tablespoon oil
– 1/2 teaspoon mustard seeds
– A pinch of asafoetida
– 4-5 leaves of curry leaves
How To Cook?
1. In a kadhai, add 2 tablespoon oil and once it heated add mustard seeds to it. When the mustared seeds starts crackling, add asafoetida to it and then add puffed rice to it.
2. Then add red chili powder, turmeric powder, salt, curry leaves and sugar powder to it and mix them well.
3. Once the puffed rice becomes crispy, add nylon sev to it and cook for 2-3 minutes and then remove the kadhai from the heat.
4. Transfer the mamra into the bowl and once it's cool serve it.
Preparation Time: 5 Minutes
Cooking Time: 10 Minutes
Servings: 2 Persons