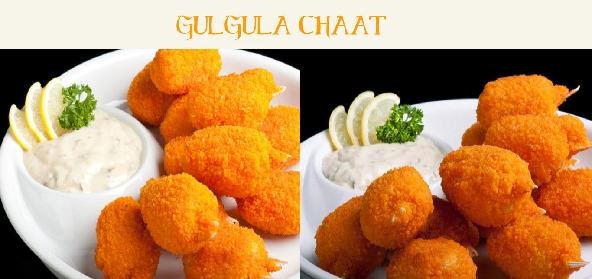 Ingredients:
• 175 gms – split green lentils, skinless (moong dal), soaked in water for 2 hours
• 75 gms – black gram, split, skinless (urad dal), soaked in water for 2 hours
• 1/4 tsp – asafetida
• 2 tbsp – coriander, chopped
• Oil for deep frying
• 1/2 tsp – salt
• For Garnish:
• 2 radish, grated
• Chaat masala to taste
• Tamarind chutney as required
• To Make Tamarind Chutney:
• 100 gms – Tamarind
• 200 gms – Jaggery
• 1 tsp – chilli powder
• 1 tsp – black salt
• 1 tsp – cumin powder
• 2 tsp – dry Ginger powder
• 1/2 tsp – coriander powder
• 1 tsp – cumin seeds1 tsp – oil
• Salt to taste
Method:
To Make Tamarind Chutney:
Boil tamarind in 1/2 litre of water.
After water starts to boil, reduce heat and remove from heat after 5 mins and let it cool.
Mash the tamarind and strain the juice into a bowl.
Heat oil in a pan.
Add cumin seeds and as soon as it starts spluttering remove from heat and add the powdered spices and salt.
Stir and then add the tamarind juice.
Add crushed jaggery and return to heat.
Let mixture attain a semi thick consistency.
Cool and refrigerate.
Drain the lentils and grind in a food processor, ensuring that the texture is a little grainy.
Add the salt, asafoetida and coriander leaves and mix well.
Keep aside for 30 mins.
Whisk the batter and add a little water if required so that it is of dropping consistency. Beat the batter for 3-4 mins.
With your hand in order to incorporate air into it.
Heat oil and drop the batter from a tablespoon into the oil.
Fry on medium heat and remove when just about to turn pink.
For serving, put 4 gulgulas in a plate, garnish with 2 tbsp grated radish, chaat masala and 3 tbsp tamarind chutney.