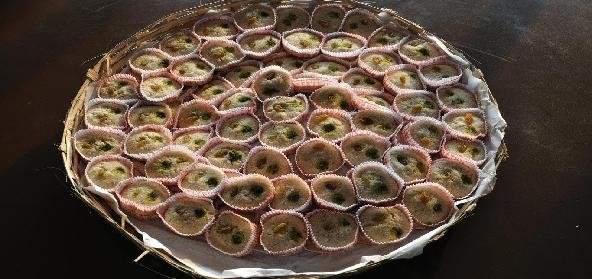 Ingredients:
• Dosa Dough – 2 cups
• Onions – 2
• Channa dal – 1/2 cup
• Mint – few leaves
• Cilantro(Coriander leaves)- few
• Coconut – 1/2 cup
• Salt – to taste
• Green chillies – 4
• Vegetable Oil – little
• Mustard seeds- 1 spoon
• Urad Dal – 1 spoon
Method:
Prepare the dosa dough without adding too much water.
Soak channa dal for 1 hour.
In a vessel add little oil. Put mustard seeds, urad dal. When the mustard seeds begin to splutter add green chillies, onions, mint, cilantro, coconut, channa dal, salt and mix well and let it cook for 3 to 4 minutes.
Add all this mixture to Dosa dough
To the container called ponganala peeta put a drop in each cup and add the above mixed dough. Cover it and cook it for 5 minutes. Turn it to the other side and cook for a minute and serve them.
Recipe courtesy of Sify Bawarchi