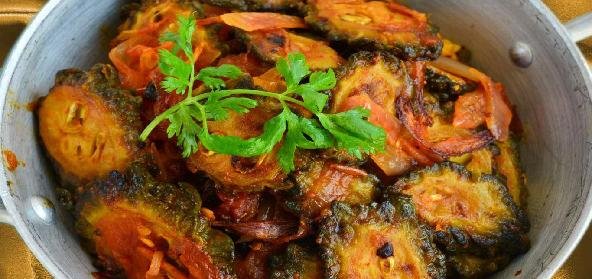 Ingredients:
• 4 medium sized- Fresh tender karelas (bitter gourd)
• 1 tbsp- Coriander leaves, finely chopped
• 2 tsp- Salt
• 1 tsp- Dried Mango powder (amchoor)
• 1 tsp- Red Chilli powder
• 1 tsp – Dhania (coriander seeds) powder
• 1/4 tsp- Turmeric powder
• 1/4 tsp – Black maharashtrian masala
• 1 tsp- Khuskhus seeds (poppy seeds)
• Salt to taste
• 1/4 cup – Coconut fresh scraped
• 2 tbsp – Peanuts crushed coarsely
• 1 tbsp – Gram flour, roasted dry lightly
• 1/2 tsp- Each of cumin and Mustard Seeds
• 4-5 – Pinches Asafoetida
• 1 tbsp- Broken Jaggery
• 1 tsp – Ginger grated
• 1/2 tsp- Garlic crushed
• 2- Onions, finely chopped
• 1 – Tomato grated
• 2 tbsp- Cream of Milk (malai)
• 2 tbsp- Oil.
Method:
Preparation of gourds :
Wash and slit the gourds. Stuff 2 tsp salt along the slits and sprinkle some on top too.
Keep aside for 1 hour.
Place under a flat stone for 6-7 hours to allow the bitter water to drain out.
When tender, remove inside seeds, and rinse in tap water.
Wipe dry with kitchen towel.
Rub with a few drops of white vinegar or lime.
Mix dry masalas, peanuts (half), coconut (half), poppy seeds and gram flour.
Stuff the masala into the gourds, keep aside half of it for the gravy.
Heat oil in heavy bottomed handi and add the gourds one at a time for 1/2 minute each.
Drain and keep aside.
Now add the seeds, asafoetida and let them splutter.
Add ginger and the garlic, saute these and then add the onion and saute until light pink.
Add the tomato, the remaining masala mixture, coconut, peanuts, tomato, salt and cook until the oil separates.
Add the malai, stir cook, until brown.
Now add the jaggery and let it dissolve. Add 3/4 cups of water and let it boil.
Let the gourds remain in the gravy and cook. Now cover and seal let it cook on a low flame for 10-12 minutes.
Break seal before serving and dry it completely.
Increase the sweetness by adding more jaggery or sugar, if desired.
Garnish with coriander, serve hot with parathas or steamed rice.
Recipe courtesy of Saroj Kering