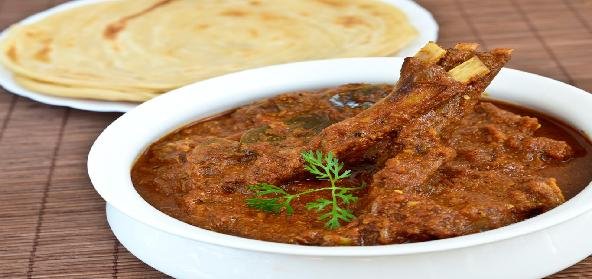 Ingredients:
• 1 kg – lamb with bones
• 2 – large Onions
• 1 small cup – fresh Mint leaves
• 1 cup – Curd
• 2 tsp – Mustard oil
• 2 pieces – green Cardamom
• 2 pieces – black Cardamom
• 2 pieces – Cinnamons
• 2 tsp – Ginger Garlic paste
• vegetable oil
• Coriander leaves
• Garam Masala powder
• Turmeric powder
• salt to taste
Method:
Marinate the washed, dried lamb with curd, salt, mustard oil, turmeric powder, chilli powder and coriander powder for 2 hours.
In a mixer grade onions, khara garam masalas, coriander leaves, mint leaves, ginger and garlic cloves.
Heat some vegetable oil in a kadai.
Add in the grated mixture and saute for 5 mins.
Now add the marinated lamb pieces. Cook for 10 mins.
Add a pinch of salt, turmeric and chilli powder if necessary.
Add water to it and cover, cook till the sauce is dense and lamb pieces are tender.
Garnish with freshly cut coriander leaves.
Serve hot with hot rice, roti or paratha.
Recipe courtesy of Sanjukta Mukherjee